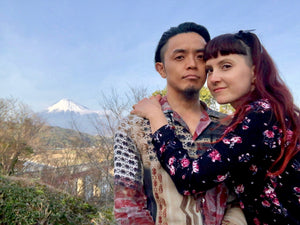 "TEAM YOSA"
In Summer 2015,
We met at King's Cross in London.
Nights spent in Camden's rock bars.
It is the distant past.
Established a company
after getting married in Japan.
Our mission is

"Spread Lithuania in Japan"
A husband who plans carefully
and avoids any risks
And
A wife who goes forward
without fear of her one-time life
"Ultimate Balance"
Do what you want to do.
Don't do what you don't want to do.
Our team name that continues to take
on the simplest and most difficult challenges is
"TEAM YOSA"